Baseball: Wildcats rally for series split
Two years ago, no one could have expected that Bo Schultz would be starting for Northwestern.
The senior pitcher did not see any game action as a freshman and did not even play on the varsity team as a sophomore. In his junior year, he appeared in 17 of 42 games, all out of the bullpen, and posted an 8.82 ERA.
But Schultz became an unlikely starter this season after injuries felled one starter and two others graduated. And this weekend, he made the most of his opportunity.
"(Schultz's performance) speaks for itself," said coach Paul Stevens. "It was absolutely phenomenal."
Schultz tossed a complete-game gem this weekend, scattering two runs on five hits in the Wildcats' 3-2 win against Michigan State. NU (7-14, 3-5 Big Ten) added a 5-4 victory on Sunday to split the four-game series with the Spartans.
The senior showed little sign of inexperience in Saturday's second game, as he kept the Spartans off-balance throughout his seven innings of work.
"It was pretty cool," Schultz said of his performance. "I'm kind of in awe right now because it was my first start in the Big Ten and the second start of my life. I'm pretty excited about it."
After allowing 26 walks in its Big Ten-opening series with Purdue, NU surrendered 10 more in the first two games against the Spartans. Schultz bucked the trend, allowing only one runner to reach base on a free pass.
"When did they score?" Stevens said. "When we walked somebody or let somebody get on. It really seems to be biting us in the backside. It really creates havoc. When guys don't get on, it changes the whole complexion of the game."
In Friday's opener, Michigan State scored five runs in the top of the third inning after starter Joe Muraski loaded the bases on walks. The following inning, the Spartans scored two runs, aided by two NU errors, as they topped the Cats 12-6. In the first half of Saturday's doubleheader, the Cats recorded only two hits, both by freshman Nate Roberts. Two NU errors led to an unearned run in the 6-1 loss.
Everything turned around with Schultz's dominating performance, though, with some timely help from the offense. NU manufactured a run in the home half of the sixth inning when Chad Noble singled home Tony Vercelli, who reached base after getting hit by a pitch. He moved to second on a sacrifice bunt by Jim Grieco before reaching home easily. Saturday's late-game momentum carried over into Sunday, when Jake Owens hit a walk-off double in the bottom of the ninth inning to propel NU to a 5-4 win. To that point, Owens was hitless in four plate appearances with three strikeouts, but he plated junior shortstop Tommy Finn from first with the game-winning hit.
"The team did a great job of giving me confidence throughout the game," Owens said. "I knew that if we were going to win in the ninth that it was going to be on me, so keeping that positive approach made things a lot easier."
The Cats won each of the last two games against Michigan State by just one run, a reversal from earlier this season.
"We came together as a team," said freshman Chris Lashmet, who had three RBIs in the series finale. "We've had a few bumps in the road, but our motto this season has been to climb the mountain. You know, we've lost five one-run games, but we've just found a way to fight back and we've really bonded as a team."
NU will next take the field Tuesday afternoon at Rocky Miller Park against Chicago State before a four-game set with Minnesota, where Roberts hopes the two-game Big Ten winning streak stays alive.
"It felt great (to win)," he said. "We've been struggling to get those wins and it's a great feeling because I feel like the momentum will carry over."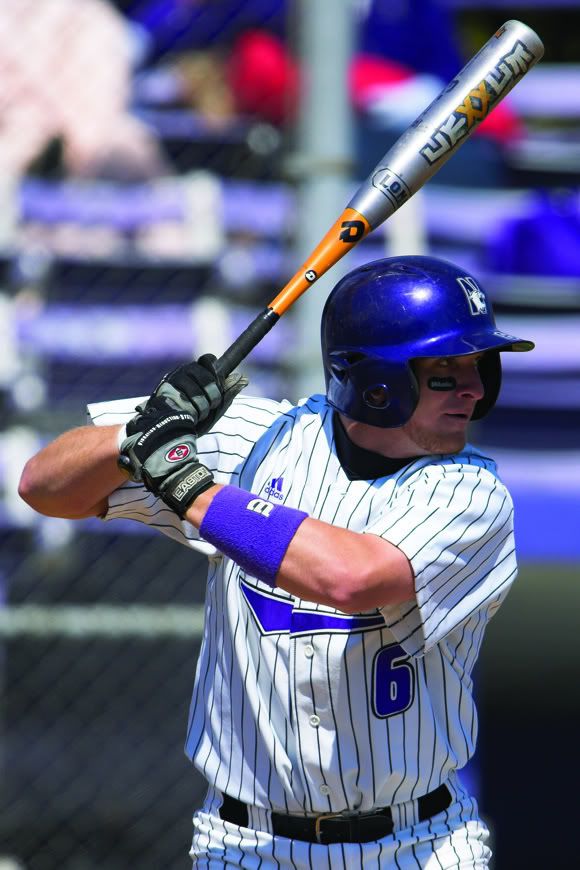 Daily File Photo– Second baseman Jake Owens had a forgettable home-opening series against Michigan State until his final at-bat. Mired in a 2-for-15 weekend slump, Owens hit a walkoff double down the right field line, leading the Wildcats to a 5-4 win over MSU.
Comments