Three NU students to appear in 'Wheel of Fortune' episodes
Christina Salter
March 31, 2008
Hang on for a minute...we're trying to find some more stories you might like.
Erika Kokkinos arrived at a "Wheel of Fortune" taping with only $15 in cash, not even enough to cover her whole cab fare. When her credit card was rejected, she took the driver's phone number and promised to pay him back.
"I'm really sorry, but I have to go be on 'Wheel of Fortune,' " Kokkinos told the cab driver.
The Communication senior thought the cab ride was a bad omen. Instead, she left the March 8 taping with over $20,000 and free vacations to Iceland and Australia.
Kokkinos was one of three Northwestern students to compete on "Wheel of Fortune" in March. Fifteen episodes were taped at Navy Pier as part of the show's 25th anniversary March 7-9. The NU marching band also performed for the show.
Kokkinos appeared on the show for the "Wheel of Fortune" College Week, which will begin airing April 28.
Communication freshman Sonya Roberts competed in a "College Week" episode, and Medill senior Julie Bartoszek competed on March 9 for "Get in the Game" week.
During winter break, Bartoszek's mother suggested she apply online to be a "Wheel of Fortune" contestant. Bartoszek learned in February that she was selected to compete on an episode airing May 16.
She made it to the final round, but didn't solve the prize puzzle. Still, the Medill senior won $7,900 in cash, plus a trip for two to Mazatlán, Mexico.
The taping was nerve-wracking and stressful, Bartoszek said.
"The 20 minutes passed in two in my mind," she said.
Bartoszek enjoyed meeting host Pat Sajak, and while chatting they realized they are both Polish and from Chicago.
"I was like, 'I am joking around with Pat Sajak and Vanna White. This is the coolest thing in the world,' " she said.
The NU marching band was invited to perform for the "College Week" episodes. About 60 band members performed at the day-long taping, drum major Evan Gray said. In his three years with the band, the Weinberg junior said members have never performed for a TV show. The band performed NU fight songs throughout the taping.
Band members had the chance to introduce Pat Sajak and Vanna White, Gray said. The show also put "Welcome Wildcat Marching Band" on the puzzle board.
The chance was a "really unique opportunity" for the band, even though members had to miss a home basketball game performance on the same day, Gray said.
"I can't even imagine the type of publicity we're going to get out of it," Gray said. "It's basically free advertising."
NU students, alumni and especially the marching band were all key supporters for the contestants, Kokkinos said.
"They gave me energy that none of the other contestants had because their fight song wasn't playing," she said.
Kokkinos applied to be a contestant while playing "Wheel of Fortune" online. She had always watched the show with her mom growing up, she said.
In the first five minutes, Kokkinos was off to a good start by winning $10,000. She made it to the bonus round and solved the puzzle just as the final buzzer rang.
After the judges reviewed the tape, they determined she hadn't quite solved it in time to win the $30,000 bonus prize, Kokkinos said. She still left with $21,900, a seven-day trip for two to Iceland and a 17-day trip for two to Australia.
After her big win, Kokkinos said she made sure to repay the cab driver who had helped her get there. She met with him the next day to pay the rest of her bill – including a big tip.
c-salter@northwestern.edu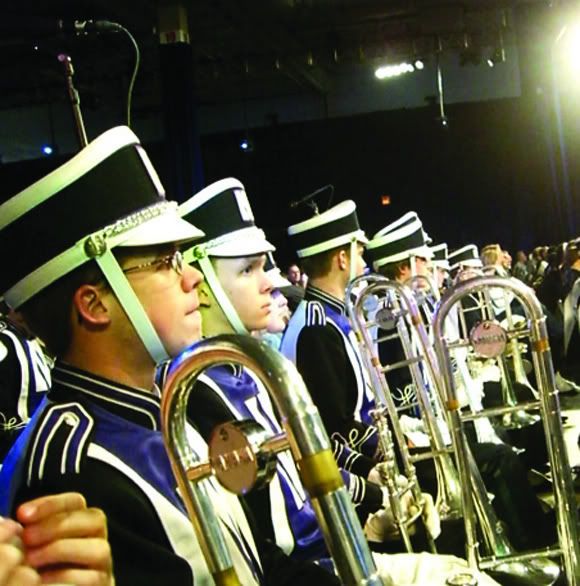 Photo Courtesy of 'Wheel of Fortune'NU's marching band was invited to attend and perform the show's College Week tapings, airing starting April 28.
Comments