NU students turn artwork into hats, shirts
Their project is a testament to the creative experience of the college dorm room.
After getting to know each other in North Mid-Quads Hall this year, Chloe Robins and Harley Langberg are now moving their friendship into the world of fashion design. The end product is a combination of their skills; Langberg, a Weinberg sophomore, does the sewing and Robins, a Weinberg freshman, is in charge of "doodling."
The two, like other fashion-oriented, NU students are taking their designs into reality – and college is an excellent forum for such experimentation, a Kellogg marketing professor said.
Under the name "Urbanoque", Langberg and Robins create custom-made hats with hand-drawn paisley or geometric prints. Langberg has been designing the hats and selling them to friends for about a year.
Before meeting Robins, he was running a one-man operation.
"This year people started hearing about it a lot more so they've been contacting me, and then Chloe and I started working together," he said. "She came up with this new (geometric) design and we started designing that."
Robins studied art in high school and said she still likes to doodle. After showing one of her designs to Langberg before Spring Break, they decided to put her design on a hat.
"This is Harley's brainchild more than mine," she said. "I'm just the doodler."
After Langberg sews the hats, Robins uses paint markers to draw the designs right onto the fabric.
Selling for $45 per hat, customers can choose their hat's design and colors.
Robins and Langberg said each hat takes a considerable amount of time. Though it can be done in one day, Langberg said he tries to spread out the process over several days.
"Everything's done by hand – custom, by myself and Chloe," he said.
Langberg said he receives orders for the hats from NU students and recently sold a couple of them to friends in New York.
But he doesn't see Urbanoque going beyond its base of NU customers, he said.
"It's always been a hobby, designing the hats, and doing it even on paper and transferring it on hats, but I don't think I see it going past Northwestern," he said. "It's more of a hobby than a business."
Weinberg sophomores Ben Pitler and Kyle Ewing took their love of design and translated it into a line of T-shirts they dubbed "Crudely Crafted." The pair began working on two separate designs in November of last year.
"We were spending so much time sitting around and looking at shirts that Ben said we should just design some ourselves," Ewing said.
Ewing and Pitler printed a first run of 70 shirts, most of which they sold to family and friends. But Pitler said he is working to get the next run sold in Chicago stores and on different Web sites.
"Most of the brands we like were started by guys like us with little fashion experience," he said.
For young designers like Pitler and Ewing, the college environment is an ideal setting for their pursuits, said Steven Fischer, associate director of Kellogg's Master of Management and Marketing program.
Fischer also teaches a popular class on the fashion industry in Weinberg's Business Institutions Program.
"Didn't that company called Microsoft get started while someone was in college?" Fischer said. "Didn't Dell Computer start in a dorm room? There's tremendous opportunity to do great things while you're in college."
Moving from dorm rooms to boutiques is a different story, said Valerie Corr, a professor in the fashion design-apparel department at the Fashion Institute of Technology. She said taking the next step is often the hardest for young designers.
"The problem is that usually you can do well very, very small or very, very big," Corr said. "The in-between is the hard part because you have to manufacture a small amount and you're competing with those who manufacture a big amount."
Designing apparel is only a small part of launching a clothing company, she said.
"Once you can get to the really big stage it gets easier, but it's also a matter of time because selling to the department stores is very time consuming," Corr said. "Distribution is time consuming. The design part is the fun part but you still have to do all of the other stuff that is running a business."
The Daily's Dan Fletcher contributed to this report.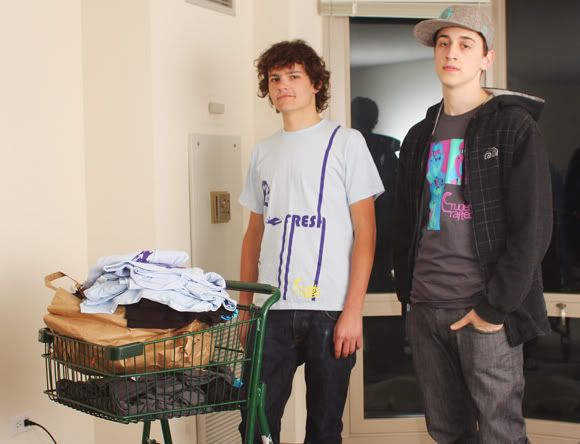 Dan Fletcher/the daily northwesternWeinberg sophomores Kyle Ewing (left) and Ben Pitler are the creators of Crudely Crafted T-shirts. The pair hopes to expand their line of business to hats and jackets.