While you were on Spring Break relaxing on the beach, No. 1 Northwestern 17-1 (5-0) was pretty hot too, except the Wildcats didn't have their feet kicked up.
"I think we go into every match with a lot of respect for every team," junior Nazlie Ghazal said. "We definitely go in looking to compete at our best level no matter how good the team is, so the respect that we have for everyone plays into how well we do."
NU has been the top ranked team in the nation for over a month now and has enjoyed its reign.
"We responded really well (to being ranked No. 1)," junior Georgia Rose said. "We are doing exactly what we need to do with the Big Ten matches and we had a great win over Baylor."
The Cats look at the ranking as not as added pressure, but as an achievement.
"It shows everybody what we can do and that they have to raise their standards to ours," sophomore Samantha Murray said.
NU is currently on an 11-match winning streak. During the Cats' run, they have beaten five Big Ten teams, traveled down Tobacco Road to beat North Carolina and Duke, did the Texas two-step with wins at Baylor and Texas, and showed they could hang with the Ivy Leaguers, dominating Princeton and Harvard.
"We just try to go out and improve our game no matter the team we are playing," freshman Maria Mosolova said.
Their biggest win over the break came against No. 2 Baylor in Waco, Texas. Going into the match, the Bears had a 37-match home winning streak dating back to 2005 and 15 straight victories this season.
"It was very exciting to end their winning streak," Ghazal said. "They are a tough team and had a big crowd but it was definitely a lot of fun."
But the Cats didn't care about the past, winning 5-2 win on Baylor's home court. It was probably their toughest match of the year, with the top ranking on the line.
"It was a great position to be in being the No. 1 team playing against the No. 2 team. We were a little tougher that day and really proud of how we played," Rose said.
Every singles match went to a decisive third set, but NU was able to take three of the five.
In her singles match, Rose won the first set 6-3. She lost the second set, but regrouped to win the match 6-3, 3-6, 6-3.
"I think we all had the mindset that we weren't going to give up a point to the other team," Rose said. "We definitely all knew what an important match it was, and we wanted to make the statement that we are the No. 1 team in the nation for a reason."
Freshman Maria Mosolova lost her first set as well. But after being upset by Texas' Vanja Corovic the day before in a match the Cats won 5-2, Mosolova refused to fall again.
"I competed hard and really wanted to win that match because losing two matches in a row is not good at all," Mosolova said.
No. 19 Notre Dame is the only non-Big Ten team left on NU's schedule this season and the only remaining team ranked in the top 20, so there is good chance the Cats will go undefeated the rest of the way.
Asked if any Big Ten team could defeat the Cats this season, Mosolva responded with a confident "No."
For the NU fans who are worried this success will not continue in the NCAA tournament in May, the Cats say you can relax.
"I don't think there is anything to worry about." Murray said. "We are going to concentrate on the Big Ten season first and the hard work will carry over to May."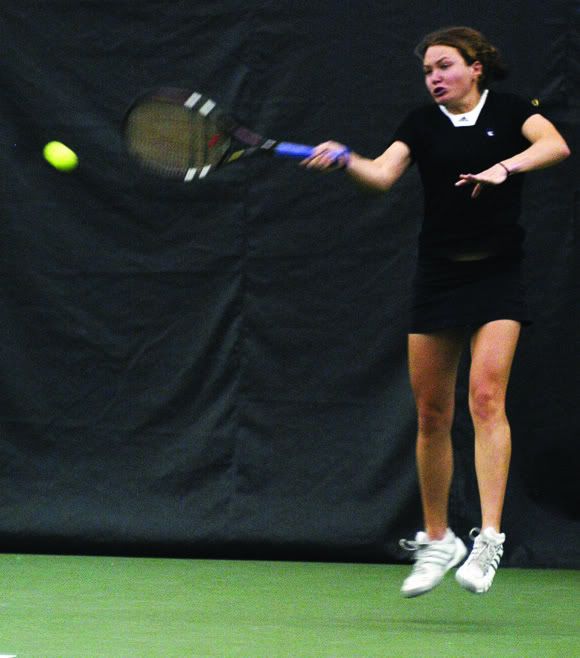 DAILY file photoRiding an 11-match winning streak, junior Georgia Rose and the NU women's tennis team are ranked No. 1 in the nation. With just one ranked opponent left on the schedule, the Cats could very well enter NCAA tournament play as the top seed overall.