NU gets on the board (Wrestling)
This weekend, No. 11 Northwestern won the dual it was supposed to and lost the dual in which it was an underdog.
Splitting a pair of Big Ten meets against No. 4 Minnesota and Michigan State puts NU at 6-7 in duals on the year and 1-3 in conference play.
Friday night's competition against Minnesota represented the third time this season the Wildcats wrestled a team that, at one point in the season, was ranked first in the nation. The Golden Gophers are also defending NCAA Champions.
NU fell 33-12 in what coach Tim Cysewski called a disappointing performance. The night began full of hope for the Cats, as No. 12 174-pounder Nick Hayes took a lead into the third period against No. 11 Gabe Dretsch. But Dretsch scored an escape, takedown and near fall in the final period to take the match 7-4 and give Minnesota an early 3-0 advantage.
"When you don't get that, everybody realized how important that match was," Cysewski said.
After No. 2 197-pounder Mike Tamillow and No. 1 heavyweight Dustin Fox won consecutive matches to knot the dual up at seven heading into the 125-pound match, things unraveled for NU.
Three pins and two major decisions in the next six matches went Minnesota's way, as the Gophers cruised to a dual win. Most deflating may have been No. 5 Brandon Precin's much-anticipated match against No. 1 Jayson Ness, in which Ness scored a 12-4 major decision.
Also helping to kill NU's chances was an injury to No. 17 141-pounder Keith Sulzer, who was coming off consecutive victories over top-10 opponents. Sulzer is day-to-day with a nagging knee injury, and his replacement, Bobby Joyce, was pinned by the Gophers' third-ranked Manuel Rivera. It was Minnesota's second-straight pin.
"We need to get healthier," Fox said. "Injuries are really the bane of any good wrestling team."
After the disappointing loss, Cysewski spoke to the team about re-focusing and dominating an unranked Michigan State team two days later in East Lansing, Mich. The Cats did just that, taking the dual 25-15.
"We just had a let-down against Minnesota," Cysewski said. "We have a pretty young club, they have to understand that it's not what you've done in the past, it's what you do for me now. I think they realized that, and we regrouped a little bit and told them, our challenge right now is to wrestle at Michigan State and put the hammer down, and we did."
NU won the dual despite wrestling again without Sulzer or 133-pounder Eric Metzler, who competed against Minnesota but had a scheduled day off against Michigan State. Sulzer's replacement, James Kohlberg, scored a major decision while Joyce, who filled in for Metzler, again was pinned by a top-five opponent.
The win over an unranked opponent came as a welcome momentum boost in the midst of the Cats' brutal Big Ten schedule. As the team searches for a way to get over the hump and defeat the likes of highly ranked squads such as Minnesota, it will also turn its attention to physical health and mental preparation.
"Michigan State was a good opportunity to get our confidence back a little bit," Hayes said. "We knew going into the dual that we were supposed to win the majority of the matches, and everybody went out there and won the ones they were supposed to. … It was a great follow-up dual to get our confidence back and get ready to keep trucking through the Big Ten season."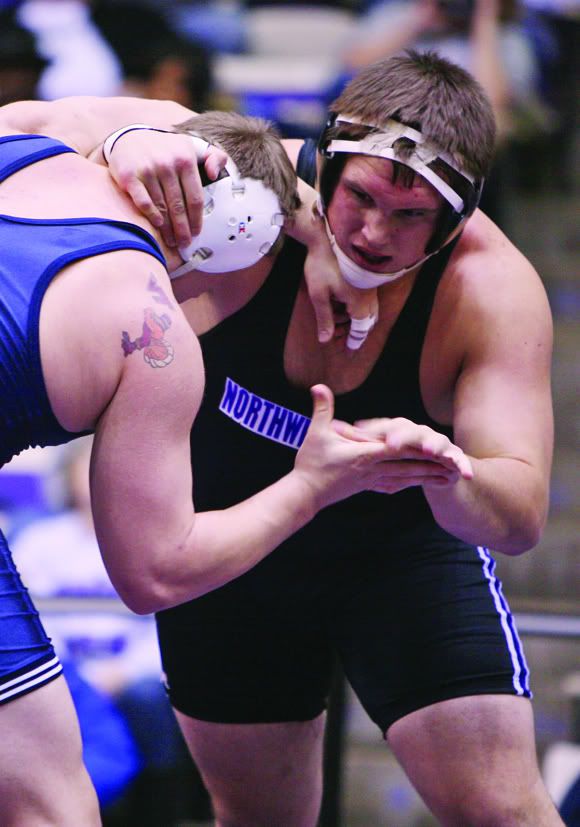 lauren Pond/the daily northwesternTop-ranked heavyweight Dustin Fox recorded a 2-0 mark on the weekend to stay undefeated this season. His major decision victory over Michigan State's Alan O'Donnell on Sunday helped the Cats to improve to 1-3 in conference play.